The Benefits of Shipping Management Software for Freight Forwarders
If you take a look at your place of work or home you will notice that most of the things that are there didn't reach there entirely by truck. Some got there because freight forwarders were engaged in the shipping process. The freight forwarder market is almost overwhelming, but the good news is that there is always room for other people to start and grow. Before you consider starting your own freight forwarder company or if you already have one in place, you should consider using the shipping management software for your operations. Here are the reasons why it is vital to use shipping management software.
Improves the scope of management
Offering services and carrying out regular schedules is not easy. Everything needs to be operating in a way that helps you meet your customer's needs. Using a shipping management software is designed to help you meet the variety of shipping requirements such as warehousing, peculiar of freight-forwarding, import-export regulations, and transportation. The software is uniquely designed through customization to improve the operation process. By using web base software application, it help you meet customer's requirement.
Rate management
Most of ltl shipping management software allows carriers to manage their shipping process from a rate request to contract quote. Enterprises such as freight forwarders can set v and enforce rate policies globally. The rate management process using shipping management software is easier, more efficient and reduces redundant data entry.
Solve operational challenges
Freight forwarders may face complexity when it comes to connecting with the global community. To connecting process should be in an automatic manner so as not to outweigh the benefits. Shipping management software offers a cheaper, accurate and faster way to communicate with their global community. From booking for shipment to invoice and shipping, shipping management software offers flexible capabilities.
Better cost
Effective integration of shipping management application help in managing various aspects of your freight forwarder company effective. The process also allows for real-time management of regulatory and customer compliance and helps in making pricing scalable in the process reducing cost. Company owners and managers have the opportunity to access relevant data and current updates in real-time. The integration, in general, leads to a reduction of overall cost and better management process.
Easy management, scalability and cost effectiveness are some of the things that freight forwarders cannot ignore. Shipping management software helps bring its users closer to each other and with other companies globally. It's also ideal for proper scheduling and precise knowledge of a state of operation in your company.
Logistics Technologies in the Freight Forwarding industry is helping in the process of reducing cost. Forwarders that uses new technology benefits of:
Cutting transportation cost.
Warehousing software helps with warehouse space
Use of Vin Decoder to reduce time and entry duplication
Freight Forwarding mangement shipments quotation to reduce mistakes
Shipments Consolidation
Freight Invoices and Bill of Lading
Shipments Tracking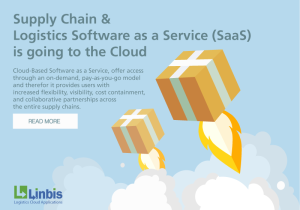 The use of freight management application on the cloud helps small and big companies to scale easily. Web cloud software eliminates the initial set up fees. Linbis Logistic Cloud Application helps small logistic company to move shipments around the globe, print bill of lading form and more.