Bill of Lading Definition
The bill of lading is categorized based on different criteria. Some of these criteria include "the location where the carriers assume the responsibility of the cargo" or if the goods can be sold before it gets to its intended recipient (Negotiable or non-negotiable BL." For a non-negotiable BOL meaning, the cargo must get to its intended recipient whereas, for a Negotiable BOL, the cargo can be sold and transferred to another party before it reaches.

Straight bill of lading form
For this type of BOL, the carrier only needs to deliver the cargo to a specified party and title of the bill of lading cannot be transferred to anyone else. It is usually used for orders that have been paid for.
Order bill of lading form

It is used when payment has not been made for the goods. The name of the consignee on the BL will be the owner of the goods. The Order bill of lading allows for the transfer of ownership. Thus it is a negotiable BOL.
Switch bill of lading form
The Switch bill of lading is a replica of an original which has already been issued. Document issued when the consignee which to keep the identity of the cargo shipper from the new buyer of the cargo.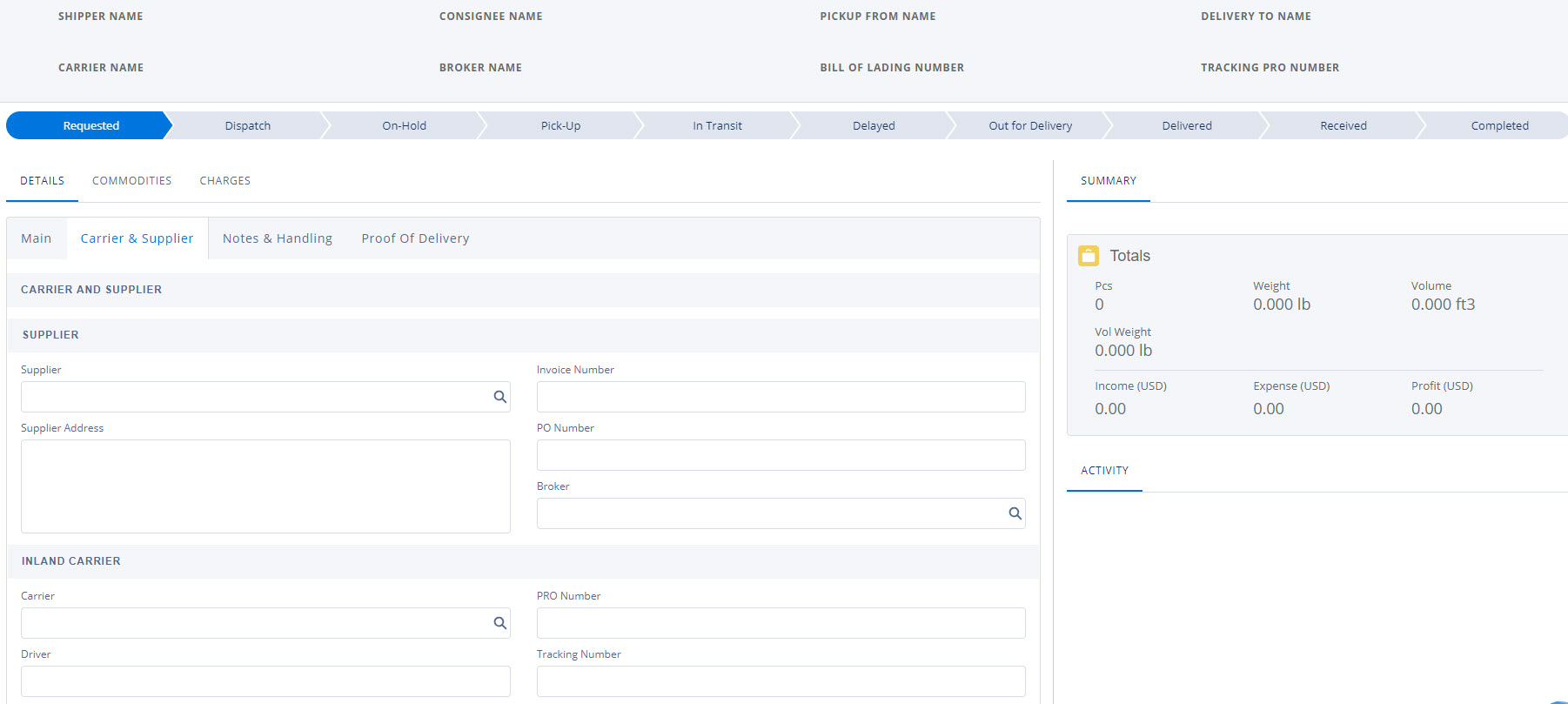 Bearer bill of lading template
The Bearer bill of lading has only the name of the owner of the cargo, but the name of the consignee is not stated. This type of lading is a legally document, but is not common because of the high risk attached.
Multimodal Bill of Lading Template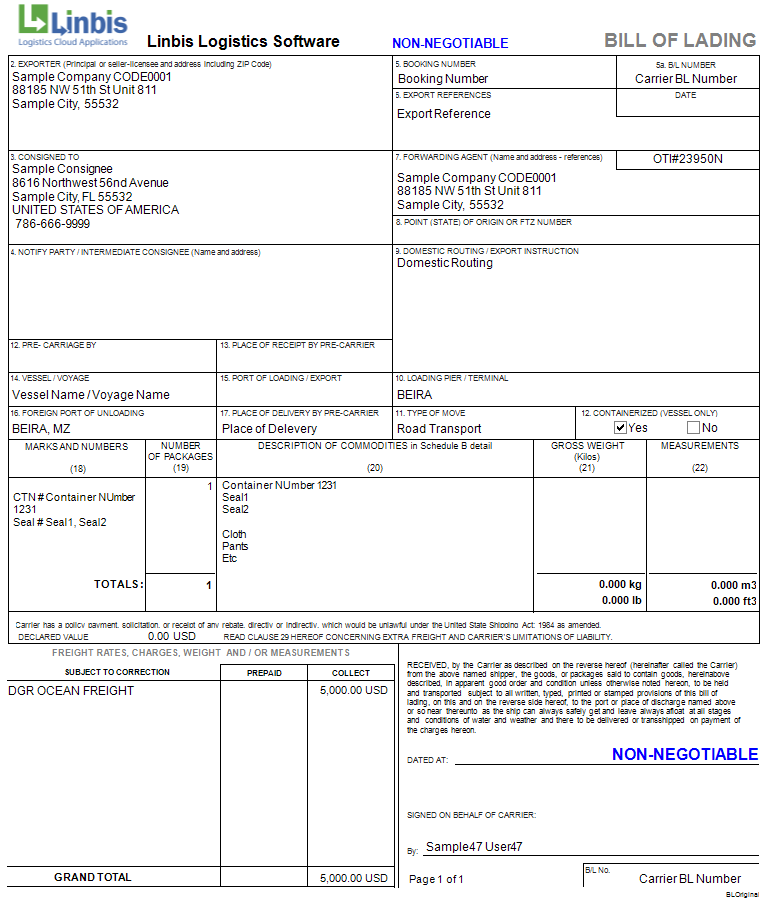 This allows the use of more than one mode of transport; ocean shipments or land transportation.
Through bill of lading:
This allows for passage of cargo through different legs (inland and sea waterways) of the same mode of transportation unlike different modes of transport as found in the Multimodal ship freight and LTL Freight.
Ocean bill of lading pdf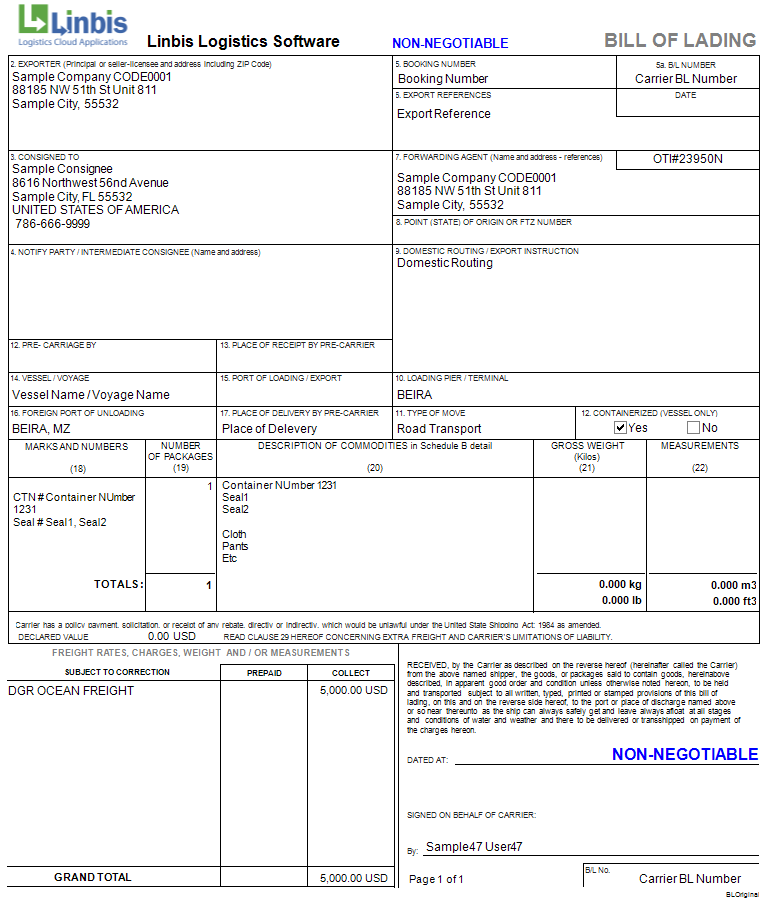 the responsibility of the carrier of the cargo starts and stops at the two ends of the ports within a ship freight. Ocean BL is usually issued by NOVCC.
Do you need to create Export Forms for any Transportation mode such as Air, Ocean, or Ground?
Linbis Logistics Software offer multiple cloud application to help business work better and efficient. We focus on logistics solutions for the transportation industry, forms such as:
Air waybills, cargo manifest, certificate of origin, commercial invoice, dock receipt, IMO Dangerous Goods Declaration, Packing List, Proforma Invoice  and much more can be created with any of the apps at linbis.
We have what your company needs to manage your logistics operation.