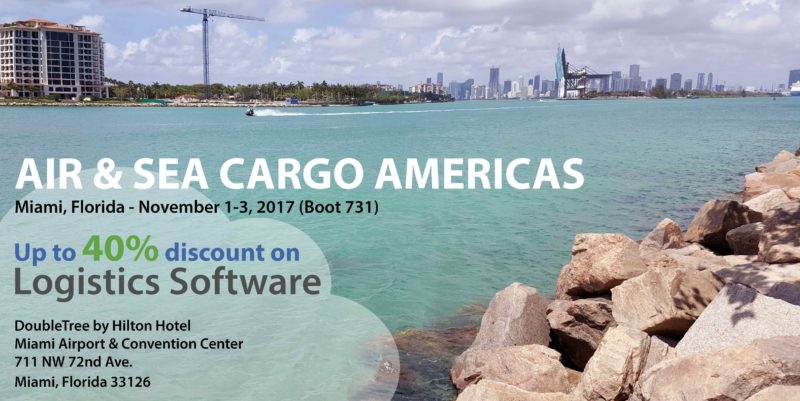 We are very excited to announce our participation on the Air & Sea Cargo Americas 2017 to be hold November 1-3, 2017 at the  Miami Airport & Convention Center.  Air & Sea Cargo Americas will gather top executives from all sectors of the logistics industry, to exchange ideas and understand challenges necessary to facilitate the growth of the cargo industry in the Western Hemisphere. Airports, seaports, airlines, steamship lines, exporters, freight forwarders, importers, agents, equipment and technology suppliers such as Logistics Software, among many others, will interchange ideas and information. Topics to be covered include: manufacturer and shipper needs in high growth cargo, trade facilitation, security, cargo consolidation, improving productivity, speed and service quality; through the use new technologies such as modern logistics software, that helps responding to market challenges and demands from shippers, consolidators and forwarders, while controlling costs, improving customer services and quality of shipping.
Linbis team will be running a lot of exciting demos of all features to be included in the new release at the Air & Sea Cargo Americas 2017. As part of our initiative toward this show, visitors will be able get up to 40% discount in our  logistics management software.
We look forward to building great relationships and share ideas that can enhance the future of the Logistics Industry through technology.
We are looking forward to see you at the Air & Sea Cargo Americas (Boot Number: 731)
November 1-3, 2017
DoubleTree by Hilton Hotel
Miami Airport & Convention Center
711 NW 72nd Ave.
Miami, Florida 33126
Phone: 305-261-3800