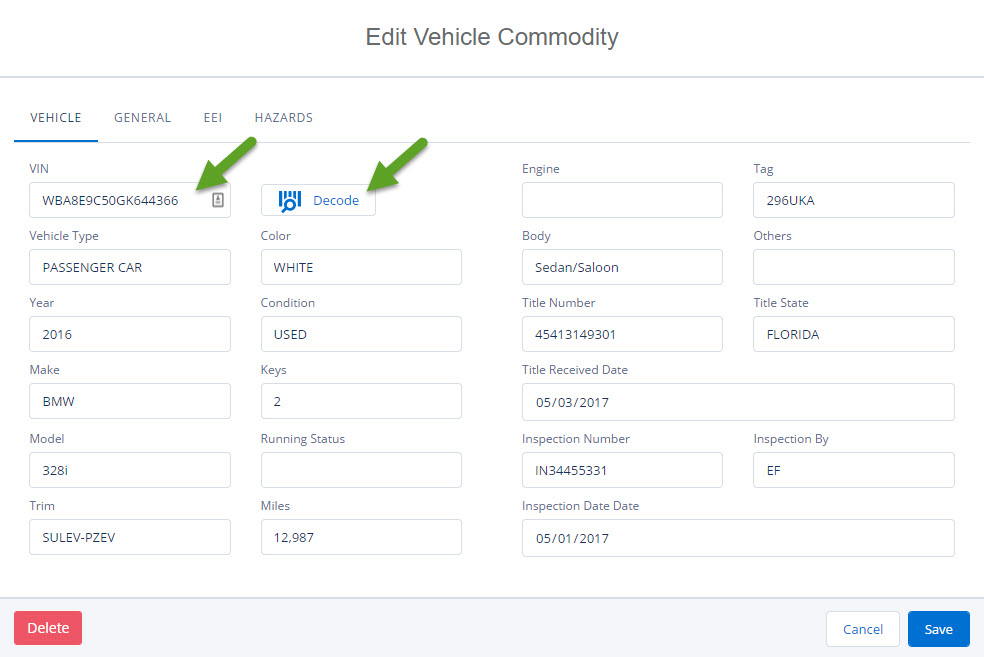 We are proud to announce that we have completed the development of the VIN Decoder and that it will be included on the next release of Linbis Logistics Software.
A Free VIN Decoder is an application tool, that ask for a Vehicle Identification Number and retrieve a lot of useful information of the vehicle, such as Vehicle Type, Make, Model, Year, Trim, Body and Engine Size.
So, by entering the Vehicle Identification Number into a VIN Decoder you can easily obtain all the vehicle details necessary for the shipping documents. A vehicle identification number (VIN), also called a chassis number, is a unique code, including a serial number, used by the automotive industry to identify individual motor vehicles.
The new VIN Decoder feature is available within the Vehicle Commodity Modal from any of the application modules that work with commodities.
Even though many good VIN Decoder applications can be find online for free, we recommend vehicle shipping companies to have a VIN Decoder embedded within their shipping software to avoid the manual entry of the vehicle information. In this fashion shipping agents can use a VIN Decoder at a very early stage of the shipping process to retrieve all the vehicle information into the initial shipping order and the carry it over until the end of the process. Linbis tool application such as CBM calculator. Industries sucha freight forwarders and truccking companies will benefit from this tools.
For a quick reference of how to us our VIN Decoder read How to use the VIN Decoder.